Cats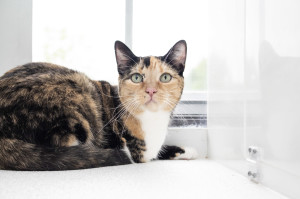 Boarding
Does your cat like to be pampered and enjoy luxury accommodations? The Cat Corner is their home away from home for your next vacation!
The Cat Corner is a separate private suite in our beautiful building, with lots of space to accommodate your feline family member. Each room has its own window, multiple levels for climbing and great views to watch all the action going on. Your cat can enjoy its own private room or share with their feline partner in crime.
Each room is a substantial 21³ feet but if your cat would like more space to roam, you can reserve more than one room. The suites have connecting doors between them (just like a hotel) which can connect up to 6 rooms at any time (during off peak seasons).
Does your cat enjoy its privacy and like a bit more of a quieter space? We have covered cat caves that can be used for those more shy individuals when boarding with us.
Boarding Requirements
What should I bring?
Enough food for the length of their stay
Vaccination records. See below for more information
A special toy from home
A cozy blanket, mat or towel
Any special treats
Any medications required
What shouldn't I bring?
Large bedding
Comforters
Pillows
Dishes/bowls (unless your cat requires a specific feeder)
Litter (unless your cat requires a specific litter)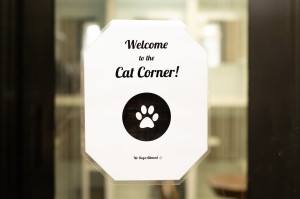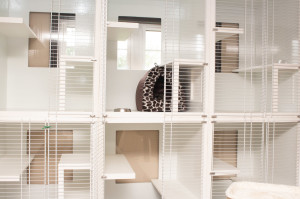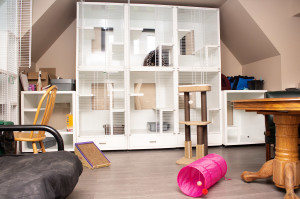 Vaccinations
When you bring your pet to us for the first time, please remember that we require proof that your pet is following your vet's recommended vaccination protocol, before admittance. Diamond in the Ruff requires proof of annual vaccination for each pet at or before the time of arrival. Please be sure to bring or fax us signed veterinary documents. In most cases your pet should have the following vaccinations:
Important Notice for Vaccines
All of these are non-negotiable unless we are provided with a veterinary note as to why they will not vaccinate your pet against one or more of those listed and their assessment of the pet's overall health. Make sure that regular booster vaccines are given 3-5 days prior to the boarding date needed. If it is the first time your pet is receiving a specific vaccine, we require a 7 day time period between receiving the vaccine and the boarding date.
We also 'flea check' each cat coming into the kennel. If any cat is found to have any evidence of fleas we will not accept them into the building. We highly recommend cats to be on a flea treatment plan, especially if they are outdoor cats or have other animals living with them at home.
We will only take people-friendly cats for boarding in the kennel! If your cat is not overly friendly with people, please see our 'Offsite Services' page for information about other boarding options.
 Pricing
The following prices are effective as of January 1, 2020 and are subject to change without notice
| | | | |
| --- | --- | --- | --- |
| PRICING  | | | |
| | One kennel | Two kennels | Three Kennels |
| 1 Cat | $17 | $27 | $37 |
| 2 Cats | $27 | $34 | $44 |
| 3 Cats | $37 | $47 | $57 |
Our rates remain constant throughout peak and off-peak seasons. But, be sure to call early to reserve your room as there are a limited number available!
Medication: $3(+)* per dose or free with any exercise package
*Based on the difficulty of medication administration the medication fee may vary. As with all the animals at Diamond, we do NOT do injections (insulin or otherwise)
Packages
Packages will be done one on one with a staff member. Cats get to roam free in the Cat Corner, they can explore, play with toys, climb up the cat tree and snuggle with their staff member. Whatever tickles their fancy!
| | |
| --- | --- |
| Cat Exercise Packages | 1 cat – Multiple cats |
| 10 mins | $5 |
| 15 mins | $7.50 |
| 30 mins | $15 |
Package Pricing is per family, where the cats can choose to participate or not, it is up to them!
Drop Off and Pick Up
Check out times: If your cat is picked up before 11am there will be no boarding charge for that day. After 11am it will be another full day cost for boarding.
Check out time is 11:00 a.m.