Welcome to Diamond in the Ruff Pet Retreat!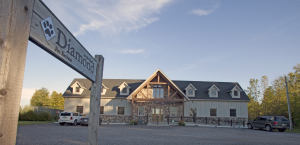 We are an all-inclusive luxury retreat founded in 2003 where your pet is treated just like family. We are located in Puslinch, Ontario on 10 acres of forested land where your pet can run, play and socialize with other dogs.  We provide an award winning retreat for the discerning pet owner who demands the highest levels of hygiene, safety and comfort. We take the guilt out of boarding your dog, so enjoy your holiday because they will definitely enjoy theirs.
Here at Diamond your dog's entire stay is customized from room size, entertainment package, food schedule, and snack options.  We can house over 64 of our canine friends in deluxe accommodations.  All rooms have heated ceramic tile floors, private outdoor runs, windows with natural light, air purification, and a comfortable bed.  We have packages that range from leisurely trail walks to exciting recesses with doggy friends.  If your dog would prefer one-on-one attention from a dedicated staff member, consider a playtime or snuggle.  We customize your dog's entire stay to make sure that your dog goes home tired, and most importantly, happy.
Still nervous or just curious on how we operate?
We have an open door policy — come by and talk with our experienced staff. **COVID RESTRICTINS: Please call ahead to book tour
Can't get out to see our facility in time? Coming from far away? Google Street View allows access into our kennel where you can go for your very own tour from the comfort of your home. Take a virtual tour of Diamond and find out why we are your dog's home away from home!
Have a look at what our customers are saying about Diamond in the Ruff.