Meet the Diamond Family
T.J. and Janice Hunter Proud "Parents" of Diamond in the Ruff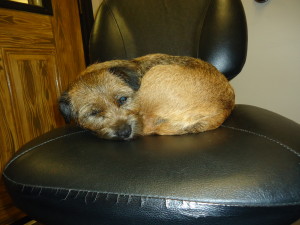 Janice Hunter is also our resident Groomer at Diamond in the Ruff. Before they had Diamond built in 2004, Janice had a mobile grooming service called "Silversnips"! In addition to their four children, they also have a Border Terrier named, Harlot.
Meet the Friendly Faces of our Staff!
---
Jess – Manager
Date Started: October 2008
About: Jess has been working closely with dogs for the past 14 years. She has been an animal lover all her life, and although she didn't have a dog growing up, she discovered her love for dogs while working at a security company that housed trained guard dogs – mostly Dobermans and German Shepherds.  She came to Diamond soon after that and has been with us ever since!  Jess is the proud owner of Olive the Pug, a chocolate lab named Moose and 2 bully crosses named Fynn and Coca!
---
Jessica - Assistant Manager
Date Started: June 2013
About: Jessica has been an animal lover her entire life. After working in retail she decided to make a change and work with dogs. Jessica graduated with honors from Mohawk College's Veterinary office management program. She is now the proud owner of her German Shepherd mix named Oakley and a Vizsla named Miller. Jessica is the proud Momma of 2 kiddos, Easton and Teagan!
---
Kirsten - Other Species Manager
Date Started: September 2012
About: Kirsten grew up loving dogs and animals of all kinds, and knew she wanted to work in the animal care field when she was very young. She grew up in New Hampshire, but moved back to Canada to go to the University of Western Ontario for Zoology. She started working as a Zookeeper in 2011, graduated in 2012, and started working at Diamond that same year. Kirsten started as a part time kennel staff, while she worked full time as a zookeeper at African Lion Safari, and did that for four years. She has since come back to Diamond full time and is loving having puppies to snuggle and take care of every day at work. She has a Shepherd Cross named Jethro, and a three-legged cat, Marble (featured on our cat page!).
---
Nikki
Date Started: September 2016
About: As is the story with many of our staff, Nikki has been an animal lover all her life. Although, she is currently taking nursing in school, she is keeping her passion for animals fed by working part time and as often as possible at the kennel. Even if it's just to lend a hand with some of the maintenance! She's really handy! Nikki's dream came true in the Fall of 2018 when she brought home her Nova Scotia Duck Toller puppy, Rivet! As you can see, Rivet has a great trainer as a Mom!
---
Nicole
Date Started: May 2016
About: Nicole started with us in May of 2016 and has been an integral part of our team ever since. She has a Border Collie cross at home named Bandit and this past January, Nicole started the Environmental Technician program at Sheridan. She still works for us part time!
---
Rachel           
Date Started: June 2019
About: Rachel is a small town girl with a big time heart. Not only is she known for her professional dance moves, she is also known for her melodic whistling and singing (talk about happy!). Rachel is a traveler at heart, she even takes jobs in exotic places such as Yellowknife, NWT. While in The Knife, Rachel adopted a strange but sweet husky, DeeDee. Rachel can be found in the kennel, politely asking DeeDee to stop howling, charming the dogs with her aforementioned dance moves or spreading around her wealth of 'dad jokes' in the front office.
Steph (Grooming and Kennel)
Date Started:
About: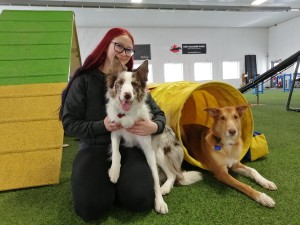 Seasonal Help
Brooklyn